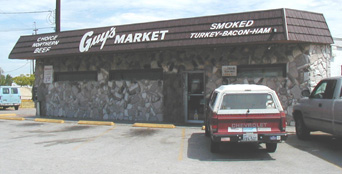 Map
For years, Houstonians have been rushing to Guy's Meat Market to reserve one of Guy's Famous Smoke Flavored Burgers. Guy only smokes two hundred burgers a day, so if you're not there by 1:00pm, you can forget about it (sold out).
But don't fret, the only thing that can replace the taste of one of Guy's burgers is Guy's BBQ Plates and Sandwiches. If you need to feed a bunch of people, don't worry, Guy also sells his BBQ by the pound, just give him a call.
Additionally, people from all over the world can now order Guy's Secret Seasoning. That stuff is so good, you'll want to eat it by itself !